5 haunted places in KL you must not visit in Halloween 2021
With October being the month of Halloween, who needs Night of Frights when the city has real haunted areas that will chill you to the bone. Like any other large city in the world, KL has its share of places whose claim to fame rests only on how haunted they are. Drawing intrigue and fear from the public, these are the top 5 haunted places in KL that you absolutely must not go to this Halloween (unless you are one of those stupidly brave souls). We have also listed the 6 most haunted places beyond KL. Read HERE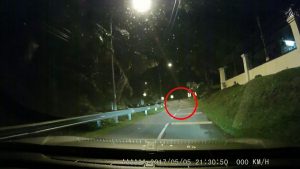 Ghost or person? Photo credit: aminioapps.com
1. Bukit Tunku
Bukit Tunku is an exclusive neighbourhood that houses some of the most expensive homes in KL. However, do not be mistaken by its well-heeled facade. It is one of the most haunted places in KL city. An unnamed mansion located in the area, which is also a heritage building, is a well known site for paranormal activities. Professional ghost hunters who have investigated the house report possessions, feelings of overwhelming nausea and inexplicable voices and shrieks. But it isn't just the house that is haunted. The roads that wind through the hills are also known for ghost sightings, most notably the apparition of a motorcycle rider on a phantom bike. There is also compelling footage online of a motorist who encountered a ghostly figure sat in the middle of the road while driving through the area (see pic above). So the next time your journey takes you through the winding roads of Bukit Tunku, watch out. Who knows what could be lurking beyond the next bend.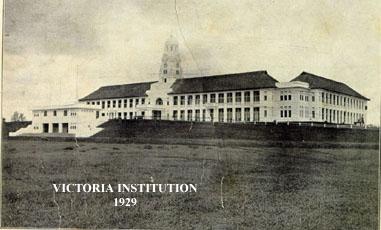 photo credit: http://www.oocities.org
2. Victoria Institution
One of the oldest secondary schools in Malaysia, Victoria Institution was founded by the British to commemorate the golden jubilee of Queen Victoria. During World War II, the school was used by the Japanese to imprison enemy combatants. Unofficial word is that captives from the Allied Forces were tortured and even killed on the grounds of the school. Students have reported sightings of ghostly apparitions during the day and night and perhaps the most well known paranormal event reported is the possession story of a marching band student. He was alone in the school late one evening when he found himself on top of the water tank with no recollection of how he got there. According to the student, the last thing he remembered was asking a girl he saw where she was going before waking up on the rooftop. Creepy.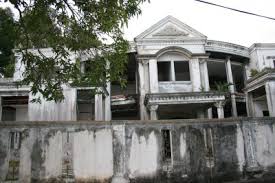 The exterior of Mona Fandey's House in Shah Alam. Photo credit: duniaseram.blogspot.com
3. Mona Fandey's House
Mona Fandey eerily predicted that she would never die and this might well prove to be true. A pop star who fell from grace by murdering politician Mazlan Idris in 1993, Mona dabbled in black magic and was a self-professed bomoh. Mona Fandey lives on in notoriety even after her execution in 2001 at the age of 45. Her house still stands today, albeit abandoned, and is located in Seksyen 12 in Shah Alam. The house is said to be haunted by spirits as a result of the black magic that she practiced while living there. The closest you'll get to the house is the road that runs alongside it as it sits on the property of the Selangor Royal Family estate. However, those who have ventured out to find it all agree that the house carries very dark energy that is undeniable.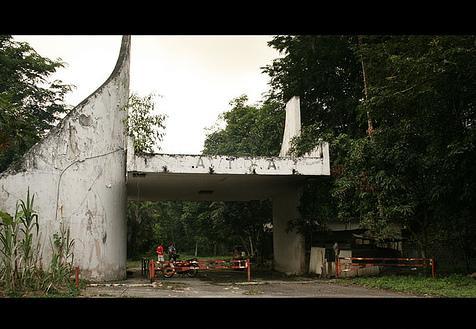 The abandoned area in Mimaland. No one's laughing now. Photo credit: malaysiahere.com
4. Mimaland, Gombak
A popular spot for local tourists in the 80s and 90s has become one of the most popular haunted places in KL, Mimaland was a water theme park that shut its doors in 1994 and has since been left to decay. While there haven't been any official ghost sightings, visitors describe the place as unmistakably eerie. The park was plagued with calamity after calamity while in operation, beginning with the freak death of a Singaporean tourist, and not long after, a landslide completely destroyed the pool in the early 90s. Since shutting its doors, the place has been left to be taken over by nature, leaving it in a state of dereliction ripe for haunting.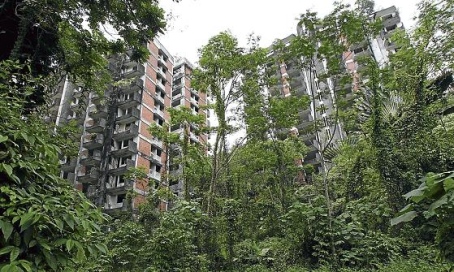 Abandoned Highland Towers. Would you enter? Photo credit: themosthauntedplaces.blogspot.sg
5. Highland Towers
One of the worst tragedies to have befallen Kuala Lumpur, Highland Towers has since made it onto many haunted lists of famous haunted places in KL. Those who are old enough will no doubt remember the terrible tragedy that claimed the lives of 48 people. Located in Bukit Antarabangsa, the buildings stand abandoned today and have been subject to much vandalism and illegal activity. However, ghost hunters who have ventured to explore the crumbling towers have had many ghostly encounters including the sighting of an old lady's apparition along with that of a baby. Incidentally, two of the victims were a 77 year old grandmother and an 8-month-old baby. The buildings have since been scheduled for demolition in 2019 so for all you ghost hunters out there, go now before you miss your chance.
So these are our top 5 haunted places KL for all you intrepid ghost hunters to explore in KL this Halloween. For those of you who prefer not to tempt the deceased, we are with you on that. You can experience the adrenaline rush of a fictional haunting in the spooky hallways of the Hauntu Colle Eastern Hotel. Follow our social media for the reopening date and make your next visit to KL one to remember.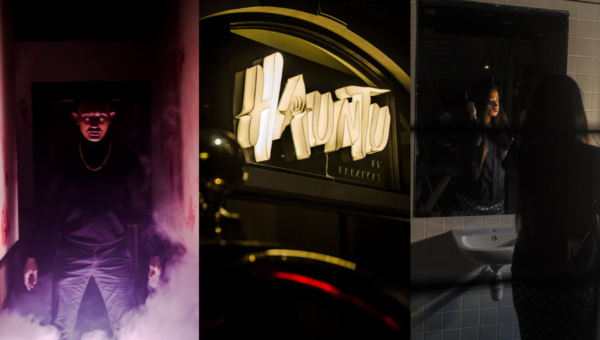 Experience a Lifelike Haunted House Experience at Hauntu Today!
Enjoy RM45/Person! Exclusive for you who reading this. Book with code "lawak45"